Organizing Your Homeschool Classroom
Do papers, books, scissors, and glue litter your dining room table? How often have you searched in vain for a needed article, only to find it in a pile of papers three months later? When you return from answering the phone, does your son tell you, "I went out to play because I didn't know what to do next?"
While homeschooling our five sons, we encountered all of these challenges (and more!). As a former public school teacher, I had struggled at first with being too rigid in our schedules and routines. Gradually, we became so casual that we developed sloppy habits. It became apparent that we needed to approach our homeschool in a more professional manner, without losing the spontaneity so precious to home education.
We discovered that homeschooling is much like operating a small business. Establishing a suitable workplace, organizing paperwork, and assigning jobs efficiently are essential to the success of both.
Setting Up a Classroom
Through the years we've had school in a variety of locations: in a spare bedroom, around the dining room table, in a camper trailer, and from the living room couch during a difficulty pregnancy. Each location worked, but as our family grew and we acquired more materials, we felt the need to establish a permanent schoolroom.
We selected a room in our unfinished basement for our classroom. Since six separate desks would have monopolized the room, my husband installed pre-cut laminated countertop along two walls. This desktop was supported by four legal-size, two-drawer filing cabinets. The laminated surface was ideal for art and science projects, and great for laying out my sewing projects during after-school hours.
Each child was assigned one filing drawer for his school materials, and I used the remaining drawers for my teaching files. Textbooks were placed at the front of each drawer, along with a lunch box for markers, scissors, and small supplies. A jar held the child's pencils within easy reach. Hanging file folders in the drawers held school papers, coloring books, artwork, and flat memorabilia. An added benefit: the boys learned how to use a simple filing system.Each boy had a bulletin board hung on the wall by his "desk" to display his work and to post reminders, memory verses, etc.
When we did group activities, the boys could easily turn their chairs toward me. Until all of the boys were tall enough to sit well in full-size chairs, we used some small school desks along one wall. The pre-school age children could play quietly (sometimes!) on the floor while the older boys worked. A floor-to-ceiling bookshelf stood on the opposite wall and a time line raced along the ceiling. Hand-me-down carpet covered the floor and a U.S. flag disguised the entrance to the crawl space under the house.
As my class got smaller (my how fast they do grow!), we eventually abandoned the schoolroom and began using the living room for our "together times." The boys took turns sitting on either side of me as we snuggled under an afghan in the big recliner while I read aloud. The former classroom was useful for other projects and eventually became a "dorm" for our college-aged sons when they spent the weekend at home.
You may not have a room to devote to school alone, but ask God to give you creative and resourceful ideas for maximizing the space you do have in your home for teaching. If you use a kitchen table, give each child a box in which to store his materials so you don't have school materials out all of the time. Everyone needs a break from school to just be a family.
Organizing Paperwork
Over the years I've collected lots of magazine articles, pictures, and other teaching materials. My files were chaotic until I started filing by school subjects.
I have several files in each subject area, for example, Science—Meteorology, Science—Zoology, and Science—Human Body. History files are in chronological order, for example, History—Greeks and Romans or History—U.S. Colonial. Other file headings include Holidays—Fall; Language Arts—Spelling; Music—Composers; Homeschooling—Catalogs; and Homeschooling—Legal Issues. When first starting, you may not need such detailed file names, but it is helpful to have a plan for expanding when you need to. Start with just a subject heading, such as Music; then detail it as needed.
Get the best quality filing cabinets you can afford. Drawers are heavy when full; suspension rollers save you lots of aggravation and are easier for students to handle. Legal-size drawers are nice because you have a few extra inches along the sides for extra-long items, notebooks, or flashcards.
If hanging files are not built into the drawers, purchase a metal frame set at an office supply store. Hanging files hold more than traditional manila folders, they don't slide down in the drawer, and they glide easily along on the side rails, making filing a pleasure—almost!If you are schooling in the family room, a nice filing cabinet could hold all of your textbooks and teaching materials when you finish for the day.
Remember: it doesn't take any longer to file an item immediately than to file it later. You'll save time by not having to guess how many inches down in the "To Be Filed" box you might find a missing resource. Self-discipline pays for teachers as well as students. Trust me on this.
Periodically, leaf through your files. Not only will you find items to dispose of, but also you'll find resources you forgot that you had. These newly found treasures will spark creative ideas for future units. Use index cards for short ideas, quotations, games, field trip ideas, etc. Use a small recipe box for these cards. One card may list items loaned to others. Another may list locations of seldom-used materials. This card saves much searching. Use it for household items, as well as school stuff.
You may prefer to keep as much of your teaching ideas on your computer as possible. Scanning a magazine article is a quick way to digitize the information. Use a similar filing system for your computer files so you can easily find the information when you need it.
Assigning Individual Work
If I had tried to teach seven different subjects to each of my five boys individually, I would have had thirty-five lessons to prepare each day. Since my name isn't Super Mom, I had to come up with a better way of covering the material. I didn't want to lock them into workbooks all day, so we did much of our Bible, science, history, music, literature, and art together as a class, sometimes as unit studies. The sequential subjects (reading, math, and spelling) were taught individually.
Each week I wrote assignments in each boy's stenographer's notebook, a 5" x 7" tablet with spiral wire at the top, available at office supply stores. The page was headed with Monday's date; assignments and reminders for the week were listed below. Sometimes I would slip in a surprise such as "Give Mom a kiss" or "Make popcorn for everyone on Wednesday at 2:00." Reminders to work on memory verses, practice piano lessons, etc., were also included.
The younger children needed day-by-day assignments. I could write weekly assignments for the older boys, allowing them to learn to plan how they would use their time.The boys checked off assignments as they were completed. When I had an individual conference with each boy, it was easy to spot his progress. He could note any questions about his work in the notebook, also. If I was called away from the schoolroom, the boys knew what to work on until I returned.At the end of the school year, I filed the used assignment books with samples of the boys' work.
Homeschooling, especially with a "quiverful" of students, can be complicated. Using the sound business principles of establishing an optimal work environment, organizing paperwork, and assigning individual jobs efficiently can help your school to run more smoothly. If you approach your tasks with prayer and imagination, you will find the organization tools that will most benefit your family. Blessings!
(C) 2014 by Marcia K. Washburn. Excerpted from Managing Your Homeschool from the Management for Moms Series. For more homeschool organization tips and encouragement, see Managing Your Homeschool.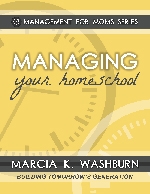 Looking for more homeschool organization tips?
Check out Managing Your Homeschool here.