Presentations by Marcia Washburn

[email protected] 970-842-4776
Marcia Washburn, BA, BMEd, offers support and strategies for parents, writers, business owners, and musicians. Her wide experience as the mother as five sons, educator, conference coordinator, business owner, and speaker make her an asset treasured by organizations seeking her services.
The author of over a dozen books, Marcia enjoys speaking to groups of all sizes and is noted for her transparent, practical, and encouraging presentations. Please contact her to see how she can support the vision of your event.
Professional:
BA, BMEd—University of Northern Colorado
Elementary music teacher—Ft. Morgan Public Schools
Owner of Washburn Piano Studio and Next Generation Publishing
Past owner of several home businesses
Speaks nationally and internationally
Columnist for three magazines, contributor to many others
Author of:

Activity Days for Homeschool Groups and Families
Homemade Convenience Foods
Management for Moms Series (six titles)
Hands-On Activity Book Series (two titles, more coming)
Beethoven Who? Family Fun with Music (unique music appreciation course)
Teach Your Family to Play the Soprano Recorder
Family Fun with Dynamics
Family Fun with Tempo
Talent to Treasure: Building a Profitable Music Teaching Business
Home-Based Eldercare: Stories & Strategies for Caregivers
Personal:
Married to one husband for 40+ years
At home in rural Northeastern Colorado
Homeschooled five sons for nineteen years
Grandmother to twelve (and counting!)
Caregiver to several adult relatives through the years
Following is a list of presentations Marcia offers. Contact her to see how she can tailor one or more presentations for your organization's needs.
ENCOURAGEMENT AND VISION WORKSHOPS
Building Tomorrow's Generation (While Cleaning Up Today's Spilled Milk) The work we do as homeschoolers extends far beyond teaching the Three R's. We are partners with God as we lay a firm foundation in our children's lives so their faith won't crumble under pressure. In this session Marcia casts a vision for teaching generationally, looking beyond the daily challenges of crying babies, clinging toddlers, correcting papers and, yes, cleaning up spilled milk.
NEW! How to Be a People Teacher Based on many years of teaching in public, private, and homeschool settings, Marcia shares her heart, her enthusiasm, and her techniques for individualizing instruction to suit each student. Topics in this important session include the importance of relationship and companionship, differentiating the curriculum for each child, teaching for mastery, and ten mistakes homeschoolers commonly make.
Conference favorite! The Ideal Homeschooling Mother Women have a tendency to compare themselves unfavorably with other women, and homeschooling moms are no exception. This encouraging presentation explores God's plan for your homeschool and why He chose you to mother your children. It reminds us to live our lives one chapter at a time and to gain strength from mentoring relationships.
The Frontiers of Homeschooling Looking for something different for your group? In this presentation, Marcia details the story of the first-ever home education conference in the jungles of Ecuador. Using Shuar Indian artifacts and PowerPoint photos, she weaves in encouragement, humor, and the "why" of home education, leaving a memorable "take home" message for her listeners. Fascinating for children and adults. Note: This can be a 60-120 minute presentation.
Homeschooling through Difficult Days Life's challenges don't stop just because we are homeschooling. Sickness, accidents, moves, caring for elderly relatives, crisis pregnancies—they're all a part of God's custom-designed curriculum for us. Practical coping tips and encouragement for the journey are the focus of this sensitive presentation.
Grace Notes This session explores the many ways that God extends grace to us as we journey through life. Rich in personal illustrations, it is designed to encourage, uplift, and inspire listeners to trust that God does indeed have a wonderful and unique life message to speak through each of us.
Eight Habits for Highly Successful Homeschooling This workshop contains advice and anecdotes from a veteran of nineteen years of homeschooling. Among the topics: finding support, avoiding isolation and legal troubles, recognizing counterfeit programs, and encouragement for the journey ahead.
HOME MANAGEMENT WORKSHOPS
Homemade Convenience Foods Have you ever wished you could spend more time with your family and less with your pots and pans? This practical workshop shows you how to break free from the kitchen and get tasty meals on the table in fifteen minutes, without using TV dinners! Recipes and techniques are included.
Conference favorite! Management for Moms: Friendly Advice from a Homeschool Vet This popular presentation reflects Marcia's nineteen years of experience homeschooling her five sons. It includes hints for teaching several children at once, coping with household duties, dealing with doubting friends and relatives, supporting the marriage relationship, and encouragement for the journey.
Conference favorite! Scheduling Your Priorities This session is designed to help parents discern the priorities God has chosen specifically for them, realizing that those priorities will differ between individual Christians and during various seasons of their lives. We will focus on building a framework for decision-making and offer specific tools for following through with those decisions. Our purpose is not to share time-saving hints (how to shoehorn more activities into your day) but, rather, how to live in such a way that you can say as you fall into bed at night, "Lord, I have finished what You called me to do this day."
NEW! Home-Based Eldercare: Stories & Strategies for Caregivers Most of us will find ourselves caring for loved ones in the future. Marcia shares her experience caring for four adult relatives in various capacities, including her long-term care for her mother-in-law who suffers from Alzheimer's.This session includes practical tips and encouragement for honoring parents through personalized legal, financial, physical, emotional, and spiritual care.
HANDS-ON HOMESCHOOL WORKSHOPS
Beethoven Who? Family Fun with Music Many homeschoolers have trouble fitting music into their busy school days—time, expense, and lack of confidence all contribute to the problem. This workshop gives practical, hands-on ideas for all ages that any parent can do.
Teaching Young Children Expensive curriculum is not really necessary for your little ones. Learn ways to teach your pre-school, kindergarten, and first grade children with items found around the house. Subjects include beginning reading, math, science, history, music, art, physical education, and character education. Ideally presented as a two-hour workshop, but a one-hour version is available.
Teaching Beginning Reading Many new homeschoolers panic at the thought of teaching their children to read. They cannot remember how they learned to read—it just happened. Or, perhaps, reading was always a struggle and they are worried that only a "professional" can properly do the job. This workshop is filled with practical, encouraging advice and strategies for teaching this very important subject.
Hands-On Math Activities Many children (and parents!) struggle with math. Exploring math concepts by handling real things, instead of just using paper and pencil activities, can greatly improve understanding. This workshop presents many hands-on activities and games that can be made from readily available materials at minimal cost. Detailed handouts will be distributed. This material can be presented in lecture format or with attendees actually participating in the games and activities (more fun!).
Hands-On Art Activities The first 100 people arriving at this workshop will actually get to do nine different art activities during this sixty-minute workshop. All attendees will receive detailed handouts describing how to do the activities at home and how to set up an art day for their support group. Great choice for a fun Moms Night Out meeting, but has also been done in a major conference setting.
Teach Your Family to Play the Soprano Recorder In this workshop you will learn to play the soprano recorder. No music-reading skills are necessary. Resource lists and beginning music will be handed out at the workshop. You may provide your own instrument or purchase one from your hosting organization. Marcia will assist in making arrangements for group purchases, if desired.
Activity Days for Homeschool Groups Support group leaders are busy people. This session is based on Marcia K. Washburn's book, Activity Days for Homeschool Groups & Families. Recommendations for organizing activity days (frequency, location, costs, leadership, etc.) are central to this workshop. It includes a potpourri of ideas for support group activity days including Hands-On Art, Hands-On Math, Dissection Day, Bible Quizzing, Community Service Day, etc. Many families enjoy using the activities in their own homes, as well. The workshop can be taught using either a lecture or hands-on format.
FAMILY ECONOMICS WORKSHOPS
Building a Financially Free Home Do you have a SILKS family (Single Income, Lots of Kids)? This presentation both casts a vision for debt-free living and gives practical suggestions for doing so. Lots of handouts and examples (but no sales pitch!).
NEW! Managing a Business While Managing Your Home Many women are seeking ways to contribute to the household income without neglecting their calling as wives and mothers. How does a busy mom balance the needs of her family with the demands of operating a home business? Marcia shares important insights gleaned from her experience running three home businesses while homeschooling her five sons.
NEW! Talent to Treasure: Building a Profitable Music Teaching Business Based on her popular book, Marcia shares her wealth of experience gleaned from teaching students to play the piano. It's all here: Should you teach? Preparing your household. Bookkeeping and taxes. Setting up your studio. Dealing with special needs, children who don't practice, parents who don't pay, and performance paralysis. The first lesson. A humorous and encouraging walk through a piano teacher's life, but useful for teachers of voice or other instruments, as well.
PARENTING WORKSHOPS
What Makes Your Child Tick? Have you ever wondered why your child thinks and acts the way he does? Why he expresses himself so differently from his siblings? How to find and nurture the unique gifts God has placed in him? In this session, we will build an understanding of personality types, love languages, and spiritual gifts so that you can raise your children with greater understanding of their uniqueness.
Popular workshop! The Joys of Raising Boys It is no accident that boys, toys, noise, and joys are rhyming words. Rich with humor and stories, this presentation challenges attendees to look beyond the dirt and debris inherent in a household filled with boys and toward the goal of raising godly men for the Kingdom. Lots of practical ideas from the mother of five sons.
Things I Learned in the Garden I'm not much of a gardener, but that hasn't kept God from teaching me many things while on my knees trying to tell a weed from a seedling. This workshop explores issues of character, discipline, and making choices—for children and parents.
Discipline 101 What does the Bible teach about disciplining our children? Before we teach the academics, we must train them in obedience and attentiveness. This presentation deals with issues such as parental self-discipline, unity, winking at sin, exasperating your child, and righteous correction. Instructions for developing a personalized parenting manual are included. Note: This important presentation lasts two hours.
MUSIC PRESENTATIONS
Everything You Wanted to Know About Classical Music in Sixty Minutes or Less. This workshop gallops through two hundred years (1700-1900) of classical music history. Rich in recorded and live listening selections, amusing stories, and visuals, this presentation will interest musicians and non-musicians alike.
Conference favorite! Beethoven Who? Family Fun with Music Many homeschoolers have trouble fitting music into their busy school days—time, expense, and lack of confidence all contribute to the problem. This workshop gives practical, hands-on ideas for all ages that any parent can do.
Teach Yourself and Your Family to Play the Soprano Recorder. Marcia will teach adults to play this simple folk instrument during a one-hour session, demonstrating precisely how they can teach their own children at home. No music-reading skills are necessary. She will assist in providing recorders and necessary supplies. A fun, hands-on workshop for all.
WRITING PRESENTATIONS
The Door to Publication: Magazine Articles. The average book sells no more than about 5000 copies over the lifetime of the book whereas one magazine article can reach 100,000-300,000 readers or more. Marcia addresses reasons why writing magazine articles for publication can pave the way for an author's book. Additional topics: what to write, where to submit and how, and handling both rejection and acceptance.
From Heart to Hand: The Journey to Publishing Your Book. Whether you want to build a writing career or to publish your memoir for your grandchildren, publishing your book can be a daunting task. This presentation addresses motivation, advantages of the options, steps toward publication, and first steps in marketing your book. Note: a four-session option is available for more in-depth coverage of the topic.
OTHER OPTIONS
Homeschool Training Camp—Preparing for a Winning Season This is a two-part seminar, ideal for a fall meeting, that targets both moms and dads. It includes components from several different workshops, taught using a football theme. The sessions may be separated by a Tailgate Party (carry-in meal). Its purpose is to pass along game-winning strategies to both rookies and veterans as they start off the new teaching year.
Weekend Conference Option Marcia offers multiple options to customize your event to the needs of your group. For example, many groups desire a leadership event for leaders on a Friday evening, followed by a day of workshops on Saturday for the general membership of the group. Arrangements can be made to include one or more workshops with activities for children, if requested. Messages centered on specific themes can be arranged, e.g. "The Hats Women Wear," complete with a fashion show. Contact Marcia with your ideas and she will assist in making your event extra-special.
MEETING PLANNER INFO
SPEAKING FEE OR HONORARIUM
Love offering and transportation costs for small groups within driving range of NE Colorado. Please contact Marcia directly for U.S. and international events.
TRAVEL AND ACCOMMODATIONS
Marcia will travel nationally or internationally, as the Lord leads. Honorarium, transportation & lodging expenses required except under unusual circumstances. Contact Marcia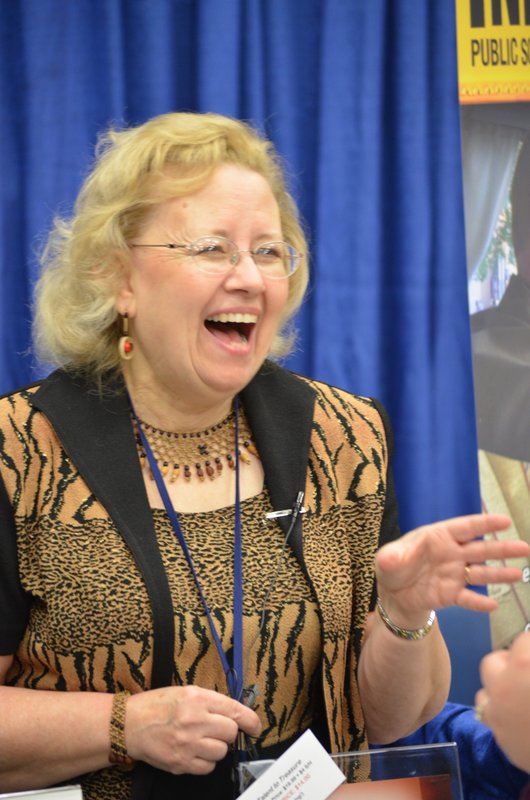 Marcia enjoying a laugh with a guest at her book table.